Corniglia is the central village of the Cinque Terre, the only one perched on a vertical cliff, and without a pier. Administratively it depends on Vernazza.
Arriving by train to reach the village you have to climb along the Lardarina, a staircase consisting of 33 ramps and 377 steps. This zigzag pattern makes it a fairly gentle climb and ramp after ramp you can enjoy a splendid view … and if you are really lazy or have some walking problems you can always take advantage of the minibus service that from the station railway leads to the village.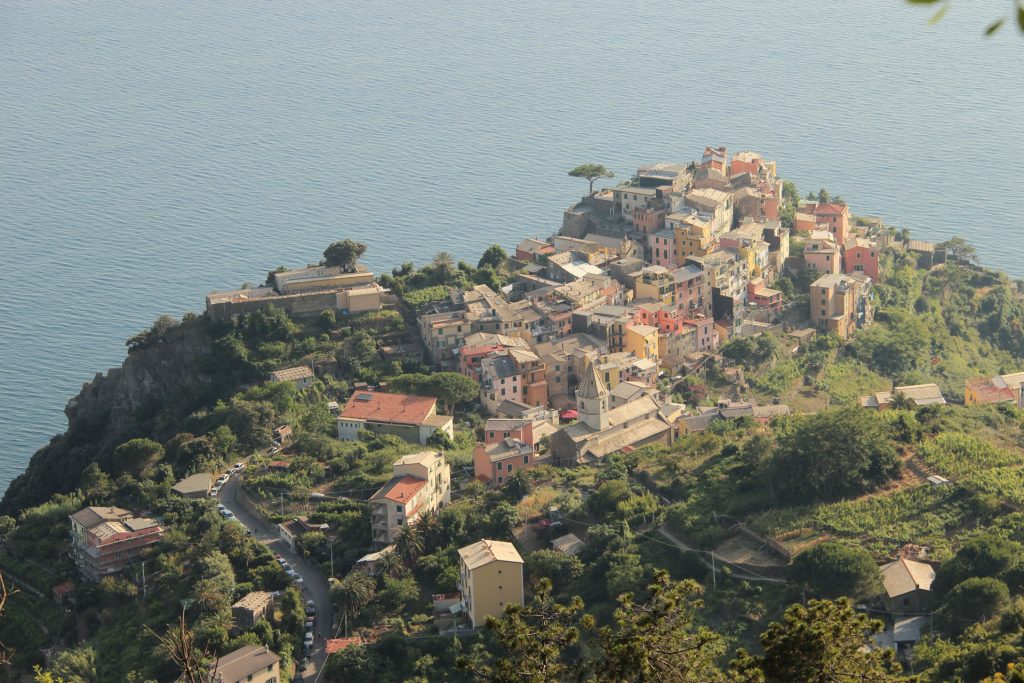 The settlement has origins in Roman times and the etymology of the name, which can also be traced in some wine amphorae found in Pompeii, derives from that of the family that dominated it, the Gens Cornelia. The history, from the Middle Ages onwards, is similar to that of the other villages and has followed its events and development, also on the urban and agricultural side. Corniglia is still surrounded by vineyards and olive groves.
«And then in a white napkin, she brought him two slices of toasted bread and a large glass of Vernaccia from Corniglia.»

(Boccaccio – "Decameron", tenth day, second novel)
What to see in Corniglia
Corniglia has what is called a ribbon structure, developing along Via Fieschi, which leads from the historic center to the cliff overlooking the sea, passing through the heart of the village, with its shops, bars, and many picturesque views.
Starting from the top, we advise you to stop and admire the village seen from the square of the church of San Pietro, patron of the village. In pure Ligurian Gothic style, dated 1334, while the Carrara marble rose window that adorns the facade is an addition from 1351. The remarkable baptismal font kept inside, from at least two centuries earlier, as well as the frescos and the evangelists' statues, are remarkable.
Walking downhill and following the road, you arrive in Largo Taragio, an eighteenth-century square overlooked by various shops and bars and the oratory of the Disciplinati di Santa Caterina from whose square on the back you have a splendid view of the coast.
Another unmissable square is the panoramic terrace of Santa Maria, at the bottom of Via Fieschi and overlooking the sea.