Vernazza is the fourth town starting from the east and the village of Corniglia depends on its municipal administration. The first village of the Cinque Terre, the castrum Vernatio is mentioned already in an act of the Obertenghi in 1080, and the etymology of the name derives from the adjectives verna or local, while from Vernazza derives the Vernaccia wine, produced in Corniglia but taking the name from its port of embarkation.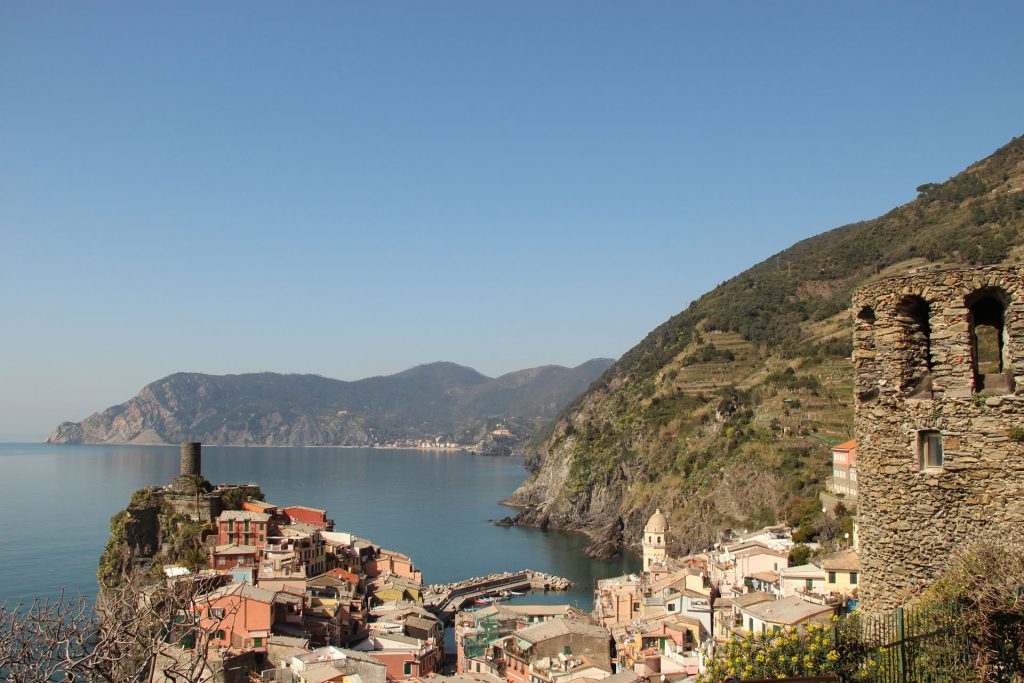 History
The settlement developed with the move downstream of the inhabitants of Reggio around 1016, after the last Pisan-Genoese expedition in support of Sardinia to repel the Saracens. Vernazza was the maritime base of the Obertenghi, lords of the village until the end of the XII century, when the Republic of Genoa made it a commercial maritime base in 1209, decreeing it a fief of the Da Passano first and the Fieschi subsequently.
Genoa built both a fortified port for the landing of its galleys and a shipyard for their repair. Only a few portions of the walls remain, clearly visible when you hike from Corniglia, along the SVA path, while the lookout towers and Belforte have been recently restored.
Under Napoleonic rule from the end of 1797, Vernazza was annexed to the Department of the Gulf of Venus, becoming its capital after La Spezia and before being inserted in the Department of the Apennines with the First Empire of France. From 1815 it became part of the Kingdom of Sardinia, until the creation of the Kingdom of Italy in 1861.
What to see in Vernazza
The town winds around Via Roma, the result of the covering of the stream, from which branches of carrugi (i.e. narrow alleys) and very vertical stairways branch off.
Reached the main square, Piazza Marconi, spend some time visiting the Parish Church of Santa Margherita d'Antiochia, whose foundations were laid directly on the rocks in 1318, but whose variations and extensions continued until the whole of the seventeenth century.
In the Ligurian Gothic style, the church dedicated to the local patron saint presents the signs of the Antelami's workers and its mullioned windows give a very suggestive view of the pier and the Genoese bastion Belforte. Very peculiar the bell tower with an octagonal base and a balcony.
On the opposite side stands the Doria Castle, the defensive fortress built by the Obertenghi in 1056 and then developed and enlarged by Genoa. We advise you to walk up to the castle if it were only to discover the heart of the alleys of the village and enjoy the 360 ° panorama that you get by climbing the top of the tower.
From the tower, you will also notice the Torrione on the opposite side of the gulf and the church of the Convent of San Francesco, today the seat of the municipal administration, but whose cloister is often open and can be visited.