Mario Andreoli's Nativity in Manarola, also known as the Luminous Nativity of the Cinque Terre, will light up at sunset on December 8th, like every year since 1961. A sixty years-long tradition!
The preparation and installation work of the hundreds of characters that make up the luminous nativity scene of Manarola has been going on for weeks now, thanks to the volunteers of the homonymous association and the Cai La Spezia group, also engaged in the preliminary phase cleaning the terraces that rise to the top of the Hill of the Three Crosses.
Visiting the Manarola Nativity
From the moment of its inauguration, at 5 pm on December 8th, the Manarola Nativity scene will be illuminated every day, always from 5 pm to 10 pm, until the end of January, and the Cinque Terre National Park usually plans a series of guided tours through this exceptional vineyard.
Suppose you want to admire the Nativity scene without participating in any guided excursions, after visiting the village of Manarola and its splendid marina, we recommend you reach the churchyard, from which you will have an excellent view and after dinner also enough space to install a portable tripod and take memorable photos at night.
Mario, the creator of Manarola Nativity scene
Mario Andreoli is the creator, the soul, and the heart of the Nativity scene, which for years has illuminated the Cinque Terre and its inhabitants, attracting visitors from all over the world. Mario is a kind and passionate man whose determination gave life and carried out this gigantic project: the most extensive nativity scene in the world.
Mario's nativity scene started with a first small step, with a single cross installed in 1961 to keep a promise made to his father. The latter dreamed of seeing the ancient cross of the Via Crucis rebuilt in the center of the family vineyard.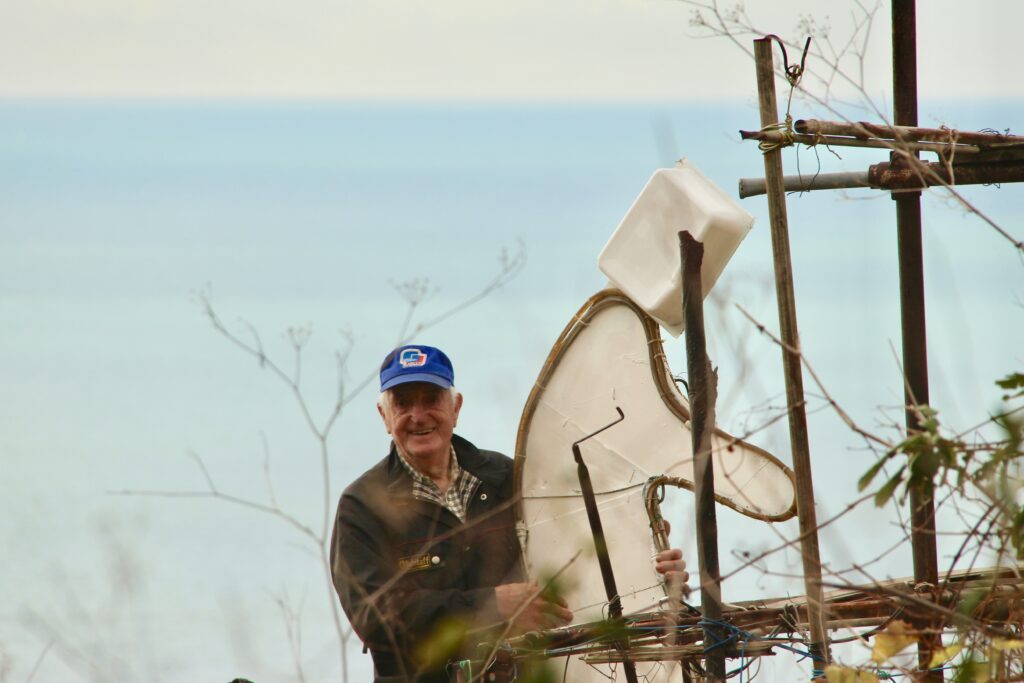 In 1962 Mario added the two lateral crosses and the Nativity scene with the Holy Family the following year. Christmas after Christmas, he then started adding shepherds, sheep, lambs, and countless other characters and details built with recycled material and illuminated by passing and pulling miles of electrical cable.
A majestic work for this beautiful gift from Mario Andreoli to the Cinque Terre and to those who love them.
*cover photo, © Carlo Alberto Conti