The Cinque Terre are five villages on the eastern Ligurian Riviera, nestled between the cliff and the sea, in a landscape shaped by its inhabitants over the centuries, which still survives today thanks to a perfect yet precarious balance between man and nature. Small treasure chests where history, nature, and art come together in dizziness of colors and shades, attracting and enchanting tourists from all over the world.
Five villages: Riomaggiore, Manarola, Corniglia, Vernazza, and Monterosso; each with its own history, its own traditions, and also with a distinct dialectal speech, but united by some characteristics.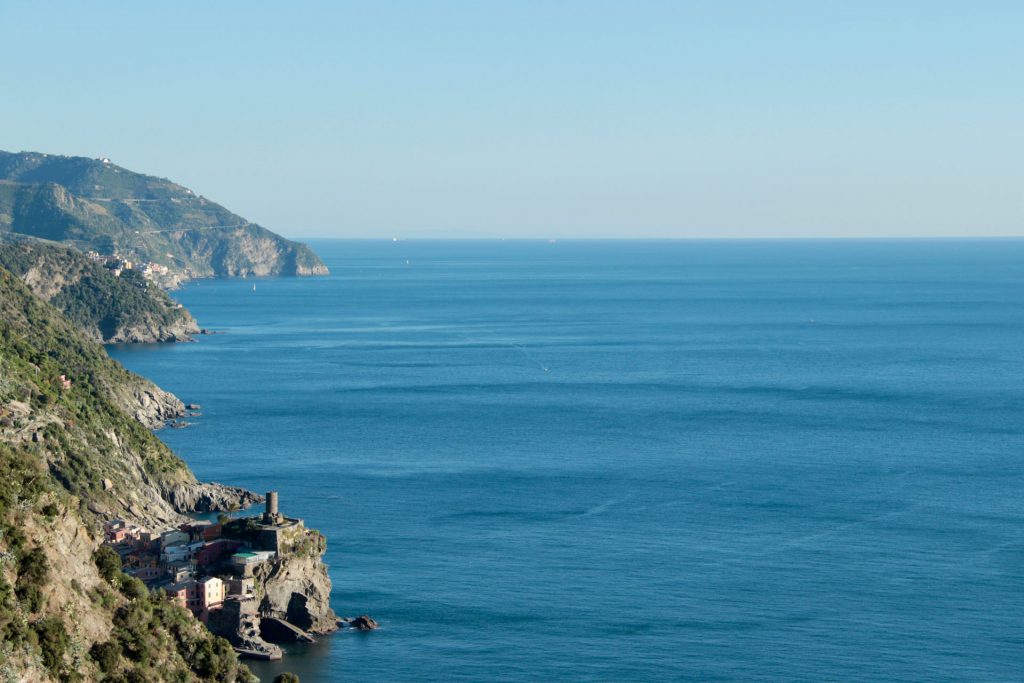 1. Sea
The inhabitants of the Cinque Terre have always worked the land and from it have drawn sustenance and economic development since the first settlements, but the sea is an essential element of the landscape. It touches the villages, reflects its colors, influences its moods based on its motion, and has always guaranteed economic and cultural exchanges.
2. Dry stone walls
Over 6,000 kilometers of dry stone walls that support and shape our landscape. Essential walls allowing winemaking and other traditional agriculture activities and making the Cinque Terre what they are. However, they are also particularly fragile, require constant maintenance and special manpower and when abandoned are at risk of landslide and above all, we risk losing our identity. For this reason, we invite you to visit the Stone Walls for Life website, a vital project in this region.
3. Terracing
The technique, sweat, effort, and inheritance are the spectacular terraces that draw the postcard landscapes of Cinque Terre. A work that began in the XVII century and risked getting lost with progress, but whose importance and essentiality is luckily quite clear now. Terracing doesn't exist without dry stone walls and we don't exist without them.
4. Vineyard
Bosco, Albarola, Vermentino, and a lot of passion and determination to maintain tradition and landscape. The vineyard, together with olive and lemon trees, is the mother of local agriculture and has guaranteed the development and sustenance of Cinque Terre over the centuries. Today called heroic agriculture, viticulture is still something authentic and closely linked to manual labor.
5. Sciacchetrà
Whoever says Cinque Terre wine also and above all thinks of Sciacchetrà, precious nectar, both for its economic and its emotional value. Sciacchetrà takes its name from the phrase describing its procedure in our local dialect, or sciacca e trá (i.e. crush and pull out). At the end of the arduous vertical harvest, the bunches destined for this amber wine are left to ripen in the sun, the grapes are carefully selected and then left to dry naturally until late November on racks placed in the shade. To be able to taste it you have to wait at least twelve months and the triple for a "Reserve".
6. Caruggi (narrow alleys)
The first agglomerations of Cinque Terre are not of Genoese foundation, but the five villages as you see them today do. As in all the possessions of the Republic, the town planning is characterized by mazes of paths, designed specifically to make the invaders getting lost and disperse. Today they make tourists lose their sense of direction, but this way you can discover slowness and unique views. Taking the time to get lost when visiting a place for the first time is one of the beauties of the trip and here it is guaranteed!
7. Fortifications
Starting in the 13th century, under the impulse of the Republic of Genoa, city walls, watchtowers and bastions were erected, to defend against the main enemy Pisa and frequent pirate raids. Each village has its own, more often now it is a vestige, but some towers and fortresses can still be visited and are always in dominant and decidedly panoramic points. Do not be put off by the steep staircases, because getting to your destination is really worth it!
8. Shrines
Each village is dominated by its own Marian shrine. The sanctuaries of the Cinque Terre are places that tell the history and traditions of this region and that offer the opportunity to make beautiful walks to reach historical monuments that combine beauty, spirituality, stillness, and unmissable panoramas.
9. Paths
A network of mule tracks and vertical paths that has guaranteed movements and exchanges for centuries and which today guarantees access to farms and orchards, offering you the opportunity to go hiking day after day, discovering always new views and hamlets, passing from one village to the other and from one sanctuary to another and from one landscape to another and all overlooking the sea.
10. Poets
Cinque Terre border the wonderful Gulf of Poets, which we recommend you visit, but verses and lyrics have also told our five villages and their lives over the centuries: from Dante Alighieri to Francesco Petrarca and Giovanni Boccaccio to Eugenio Montale and many others who fell in love with this harsh land.