Yoga and meditation in Cinque Terre, new cool offer for a new season!
Not only hiking, wine, and sea in the Cinque Terre. There's also a new cool offer dedicated to those looking for a little spirituality and meditation and want to practice yoga even on vacation.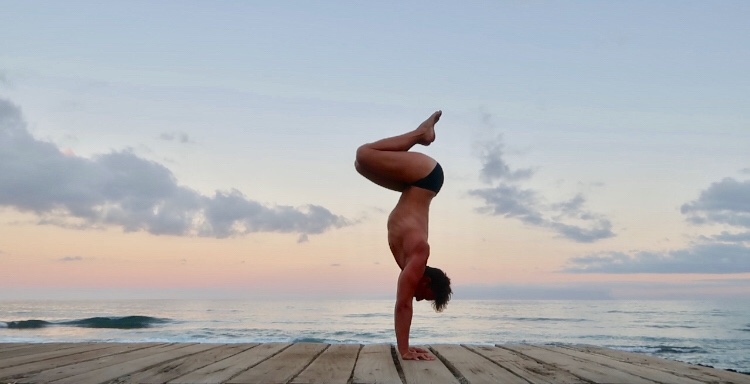 What's yoga?
Yoga is a life philosophy born in India over two thousand years ago. A set of practices, studies, theories, and teachings that aim to guide us in the search for balance between body, mind, and spirit. All this to make us live better, with greater awareness and strength of mind, but also physical and emotional well-being.
Through practice, we work on all areas of the body promoting strengthening and flexibility of muscles, tendons, and ligaments as well as improving the oxygenation of our body.
In addition to the physical body, yoga also recognizes the existence of a body made of energy, called the energy system and composed of a network of channels called nadi, in which the vital energy, prana, responsible for our sustenance flows. At the meeting points of the nadis arise the famous chakras, responsible for the proper functioning of certain organs and emotions.
By practicing yoga it is possible to regulate the energy in each chakra, improving our daily life.
These are the main techniques of yoga, all absolutely suitable for everyone.
Positions, asana
Breath control techniques, pranayama
The repetition of sounds, thoughts or words, mantra
Hand gestures, mudra
Guided relaxation techniques, nidra
Purification techniques, shatkarma
Meditation
Benefits
For those who practice it constantly, this discipline is a real lifestyle whose benefits are proven by numerous scientific studies:
It improves strength, flexibility, balance and concentration
It improves the functionality of organs, tissues, and systems, as well as keeping the cardio-circulatory system healthy
It increases breathing capacity
Treats back pain and other conditions
Detoxifies the body of toxins
Slows down aging by improving the appearance and brightness of the skin
Helps manage stress and emotions
Fights insomnia
Yoga and meditation in Cinque Terre
Yoga and meditation sessions are scheduled five times a week from July 22 in Riomaggiore. Ideal to start or end a day on our beautiful paths!
Here the whole program, proposed by La Via dell'Essenza: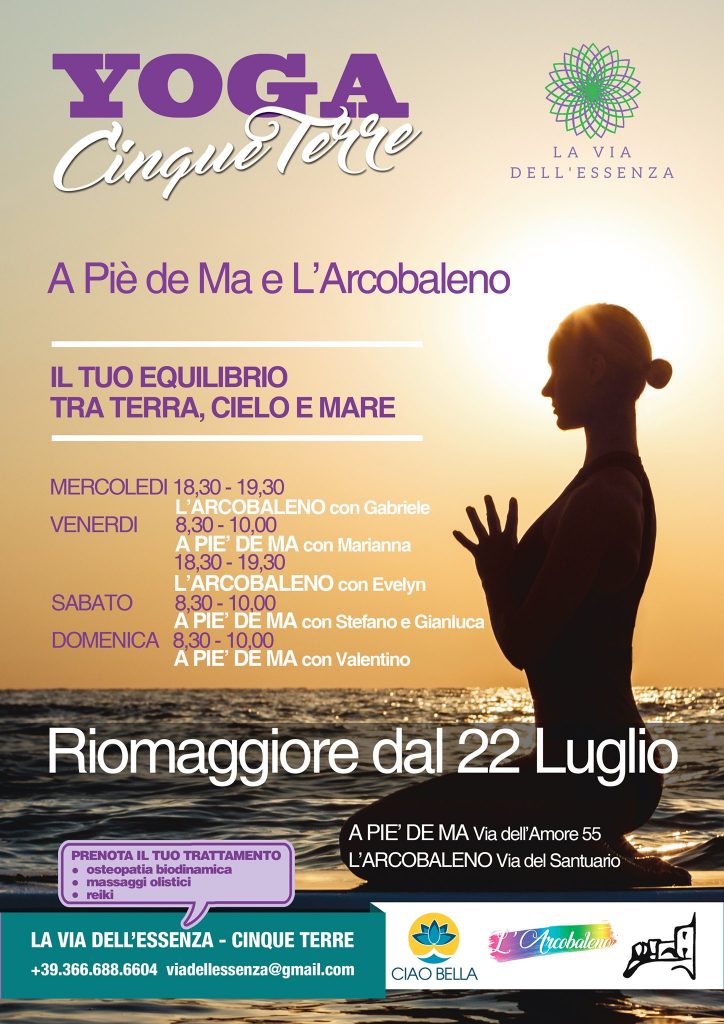 The rate is € 15 per session and to book you can call +39 366 6886604 or send un e-mail.
Holistic treatments
Muscle tensions, pains, dysfunctions of our organism. Often the cause is not physiological but linked to stress or difficult emotional situations that we have been carrying out for a long time without realizing it.
To solve these problems, or to assist their healing, Via dell'Essenza also promote a series of individual holistic treatments aimed at our well-being and its psycho-physical balance:
reiki
massages with essential oils
biodynamic osteopathy